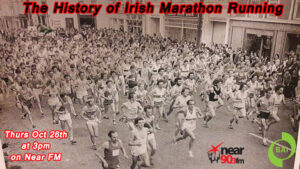 To mark the 2017 edition of the Dublin Marathon taking place on Sunday October 29th, Near FM are proud to repeat The History of Irish Marathon Running.
Thursday October 26th at 3PM
Produced and presented by Dave Hooper, with additional narration by the late great broadcasting legend Jimmy Magee, this hour long documentary traces the history of Irish marathon running in Ireland from its imperial beginnings in the early 20th century, to the golden days of John Treacy, Jerry Kiernan, The Hooper Bros, Neil Cusack and Catriona McKiernan right up to the Rio Olympic games.
Tune in on Thursday October 26th at 3PM. Only on Near FM
Theme music Fitzcarraldo courtesy of The Frames. Photo courtesy of Caroline Tuite.
Production supervisor: Paul Loughran
Made with the support of the Broadcasting Authority of Ireland with the television licence fee.
Original Broadcast date Tuesday May 30th at 6pm . Subsequent broadcast date Friday August 4th at 12 noon