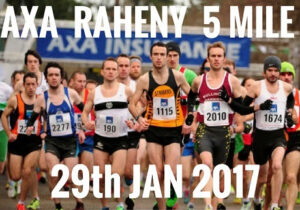 On Sunday, 29th January 2017 the AXA Raheny 5 Mile Road Race will take place; and as in previous year's, Near FM will be there on the day broadcasting live from the event.
This event, which is sponsored by AXA Insurance and promoted by Raheny Shamrock Athletic Club, is now in its 33rd year having been originally founded in 1985 by former Olympian Pat Hooper and is rated as one of the country's leading road races.
The race begins at 3pm near the Raheny Garda Station and roughly incorporates an outside lap of St Anne's Park via a series of left hand turns.
Near FM's very own Committee Members and Presenters Sabrina Ryan, Dave O'Connor, Declan Ralph and our Head Honcho, Ciaran Murray will be taking part in the race, so why not drop down to cheer them on and and you can also get to have a chat with Near FM's Fergus Carroll who will be there bringing you live commentary as well as interviews with the runners and walkers before and after the race and will be absolutely delighted to see you!!
Of course, if you can't make it down to the race then just tune in to Near FM 90.3fm or listen online on nearfm.ie/livestream/ this Sunday, 29th January from 2.30 to 4pm.