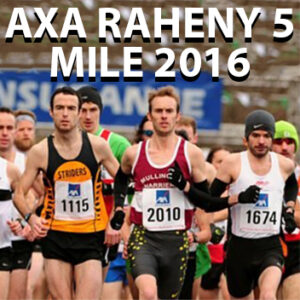 On Sunday, 31st January 2016 the 32nd AXA Raheny 5 Mile Road Race will take place. The event, which was founded in 1985 by former Olympian Pat Hooper is promoted by Raheny Shamrock Athletic Club and is now rated as one of the country's leading road races. The race begins near the Raheny Garda Station and roughly incorporates an outside lap of St Anne's Park via a series of left hand turns.
As in previous year's, Near FM will be there on the day broadcasting live from the event. So tune in to Near FM 90.3fm or https://nearfm.ie/livestream/ from 2.30 to 4pm on Sunday, 31st January for live commentary as well as interviews with the runners and walkers before and after the race, or if you are in the Raheny area on the day then drop down to have a chat with Near FM's Fergus Carroll who will be delighted to see you all, or you could always get involved as while the race will comprise a fair sprinkling of serious athletes it also caters for runners and  joggers of all abilities, and even walkers. You won't go home empty handed either, as everyone who finishes is guaranteed the famous Raheny 5 Plaque and a goody bag.
Participants can enter the race online at www.rahenyshamrock.ie or for late entries drop your entry into the AXA Insurance Office, 4 Main Street, Raheny, Dublin 5 by 4pm on Saturday 30th January. No entries will be taken on the day for the adult race.
There are also 3 kids' races before the main event and there will be prizes for the first 3 boys and girls past the post in each race plus a medal and a goody bag for all finishers. Entries for these races will be taken on the day.
To register go to https://register.primoevents.com/ps/event/AXARaheny5RoadRace or contact Pat Hooper on 0868158052 or Christy Reilly on 0868543344.
Once again this year's nominated Charity is St Francis Hospice in Raheny. Over the years thousands of Euros have been raised for this very worthy charity. So get your trainers out and get ready for the AXA Raheny 5 and end January on a high!