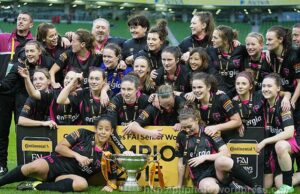 Wexford beat Shels to WFAI cup on Penalties
By Dave Hooper
Shelbourne Ladies 2
Wexford Youths Women 2
Wexford Youth's women win 4-2 on penalties.
Shelbourne Ladies missed out on WFAI Cup glory in the AVIVA Stadium, as Wexford Youths landed their first Women's FAI Cup.
Dearbhaile Beirne's final minute extra-time goal sent the game to penalities, Shelbourne having taken a second half lead through Siobhan Killeen.
Shels had the first real opening on 26 minutes, Grace Murray found space down the right her pull back found Jamie Finn, pulling her shot just wide.
Wexford's first chance of the game came after 29 minutes, Claire O'Riordan unable to steer Ciara Rossiters corner the right side of the post.
Shels keeper Niamh Reid Burke produced a world class save on 38 minutes to deny Ciara Rossiter's attempted chip from the edge of the box.
Claire O'Riordan raced through on goal, though pulled her shot wide of the target latching onto a long ball and racing behind the Shels defence.
Siobhan Killeen winning goal scorer in the 2014 final, opened the scoring with a sublime finish on 55 minutes.
Killeen's close control and trickery avided Nicola Sinnott in the box, Killeen then whipping the ball into the top left hand corner of Tamara Furlong's net.
Carol Breen spurned youth's best chance of the game after 73 minutes, Edel Kennedy unlocking the Shels defence, Breen failing to the hit the target.
Kylie Murphy's bullet header rattled the Shelbourne cross bar with nine minutes remaining, Murphy beating Shels keeper Niamh Reid Burke to Emma Hannsberry's free kick.
Claire O'Riordan was next to go close for youth's heading over Maria Delahunty's pin point right wing cross.
Sarah Rowe immediately had a chance to seal it for Shels, muscling Ruth Fahy off the ball, bur firing her shot to close to replacement keeper Naimh Furlong.
Furlong kept Noelle Murray's long range effort out moments into the first minute of stoppage time with Furlong denying Murray's volley three minutes later.
High drama was left to the final minute of stoppage time, Reid-Burke kept out Emma Hansberry's free kick with Ciara Rossiter scrambling the ball home.
Maria Delahunty's scissor kick volley appeared to win the cup for Wexford with four minutes remaining, Shels having cleared Emma Hansberrys corner, Delahunty volleying home.
Shels equalised in with the final kick of extra time, Jamie Finn's shot coming off the cross bar, Rebecca Creagh attempt falling to Dearbhaile Beirne.
Wexford converted all four of their penalities through Ruth Fahy, Rianna Jarrett, Claire O'Riordan and Kylie Murphy.
Noelle Murray and Shauna Newman both missed for Shels seeing Youth's land the cup for the first time.
Shelbourne Ladies: Reid-Burke, Keenan, Slattery, Walsh, Newman, Killeen (Beirne 85), Graham (Dwyer 67), Finn, G.Murray (Rowe 59), Creagh, N.Murray
Subs Not Used: McQuillan, Taylor, Brierley, Donnelly
Wexford Youths Women: Kelly (Furlong 33), Sinnott, Fahy, Rossiter, Douglas (Delahunty 61), Murphy, Kennedy, Hansberry, Frawley (Jarrett 76), O'Riordan, Breen
Subs Not Used: Conlon, Gleeson, Cassin, Hutchinson,
Refeere: Paula Brady