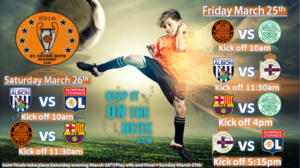 As part of Near FM's Northside Football 2 series, we will have live coverage from St Kevin's Boys Academy Cup on Saturday March 26th from 9.45am. This elite competition from the home of St Kevin's Boys football club is a unique underage tournament featuring the cream of European teams at this age level.
Join our commentary team of Dave Hooper, Neil McDonagh and Fergus Carroll as we broadcast two  matches along with  interviews with coaches, players and fans.
Match 1 – 10am – Olympique Lyonnais v West Bromwich Albion
Match 2 – 11.30am – FC Barcelona V St Kevin's Boys
Northside Football 2 is the follow up to the FAI award winning Northside Football series. This series is made with the support of the Broadcasting Authority of Ireland Sound and Vision scheme.