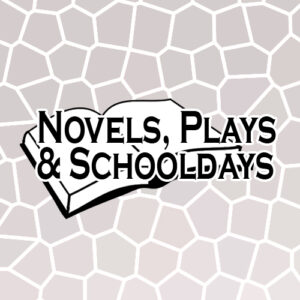 Novels, Plays and Schooldays is a new 9 part radio series produced by Near FM with financial support from The Broadcasting Authority of Ireland. The series looks at the novels and plays that form part of the Junior and Leaving Certificate English syllabus and discusses potential questions and approaches to those questions. The series features panel discussions with local schools and their teachers and dramatic interpretations of the works.

Prog 1 – Of Mice and Men with students from inner city school, Larkin Community College
Prog 2 – The Great Gatsby  with students from Colaiste Dhulaigh in Coolock. => Educational Materials
Prog 3 – The Plough and the Stars with students from KLEAR Adult Education Centre in Kilbarrack
Prog 4 – To Kill a Mockingbird with students from Mount Temple Comprehensive.
Prog 5 – King Lear with Students from Mount Temple Comprehensive => Educational Materials
Prog 6 – Home before Night with the adult education group from Klear in Kilbarrack
Prog 7 – Foster by Claire Keegan with students of Larkin Community College
Prog 8 – Pride and Prejudice with Students from Mount Temple Comprehensive => Educational Materials
Prog 9 – Romeo and Juliet with students of Larkin Community College
Series producer/presenter, Debbie Hutchinson, said the series should provide an entertaining and educational additional support to students in these difficult last weeks leading up to the exams. "We wanted to produce a programme with local students talking about their interpretations and approaches to the questions and discussing the problems they encountered when tackling these questions." She explains, "the experienced teachers provide guidance throughout the discussions on approaches to studying the texts and the different expectations of examiners from Ordinary to Higher Level".
Station Coordinator, Ciaran Murray highlighted that, "students like to hear other students explain how exam questions can be answered, and also not all students can afford extra grinds and tuition for exams especially in many of the areas that Nearfm broadcasts to. We hope this series can level the playing field even a little. Later in the series we also feature adult learners undertaking the English Leaving Certificate exam and that's an exciting initiative for us to be involved in."
This series is supported by the Broadcasting Authority of Ireland Sound & Vision scheme.