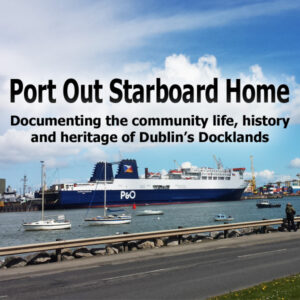 Broadcasting every Friday in June @ 1pm on Near FM 90.3
Port Out Starboard Home (P.O.S.H) is a new 4 part documentary series which looks at the lives of the people who work in, and live around Dublin Port. It gives an in-sight into a major Irish transport hub and explores the social commitment of the Dublin Port Company and its service users by focusing on the interaction of these corporate bodies with the wider Dockland's community. Historical, architectural, bio-diversity, heritage and cultural aspects of life in and around the Port area will also be discussed.  With contributions from local historians, local people living in the area, community activists,  school children and business owners, tune in to be entertained and educated by a glimpse into everyday life of this major resource in the heart of the country's capital.
Produced by Ger Leddin with additional recording and editing done by Alan Weldon, and voxpops by Una Eskelinen and Antonio Espinola Coll.
Series made with the support of the Broadcasting Authority of Ireland
Broadcasting every Friday in June @ 1pm on Near FM 90.3