Broadcasting Friday Feb 20th @ 6.30pm for 8 weeks.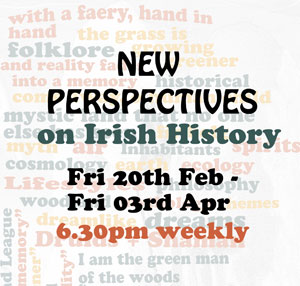 New Perspectives on Irish History is a brand new 8 part radio series devised by John Haughton, which takes a unique look at how our ancestors viewed their natural environment and how different periods of history co-existed with the natural environment of our island. In this instance this series relates to the themes of Irish History, heritage, experience and the natural environment and will raise public awareness to a unique historical perspective. Expert contributions come from Andrew St. Ledger of the Woodland League, Lord Ross of Birr Castle, Dara Molloy Celtic Priest, Padraigin Clancy expert in Celtic Mythology and Folklore and Professor Patricia Lysaght of the School of Irish, Celtic Studies, Irish Folklore, and Linguistics, University College Dublin, among many others. The series uses narration, music, poetry and voxpops to bring the themes under analysis to life in an entertaining and engaging manner.
This series is made with the support of the Broadcasting Authority of Ireland Sound and Vision scheme.
Acknowledgments by John Haughton
I hereby thank all those who helped in any way to make this production a reality, particularly my production team, Alan Weldon and Neil Doyle as well as Nearfm production coordinator Paul Loughran. I wish also to thank members of the 'ENVIRO' program who occasionally have discussed some of the topics covered in New Perspectives, including Joe Dunne, Britt Dufourney, Robert Navan and Laxmy Gunawardhanna. If I have left anyone out or omitted anything which should be included or made any errors or omissions which need correction please let me know on the email below. Also I welcome any comments on the series which I hope you will enjoy. If you require any further information please let me know. Regards, John Haughton – jjhaughton@gmail.com
`