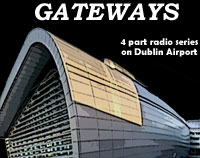 Broadcasting at 3.30pm starting Thursday the 16th of October and airing every Thursday for 4 weeks.
October 16th, 23rd, 30th and November 6th 2014
"Gateways" is a four part radio documentary on Dublin. The documentary hears from the people who live near, work at and are connected to the Airport. We talk to present and former employees of not only the major corporate entities  at the Airport but also those who work in some of the ancillary businesses based at the Airport, along with those involved at a legislative and management level.
The series concentrates on the people who contribute to everyday life in this unique North Dublin transport hub. From the Fire Chief to retired graphic designers, we learn what makes Dublin Airport special in the eyes of the travelling public. The series also looks at the positive influence the Airport has had on the community of North County Dublin.
Topics as varied as the Swords Young Musician of the Year imitative and the role of the customs sniffer dogs are discussed and the listener is given a personal behind the scenes look at Dublin Airport.
Listen Online https://nearfm.ie/listen-online/
This series was made with the support of the Broadcasting Authority of Ireland.