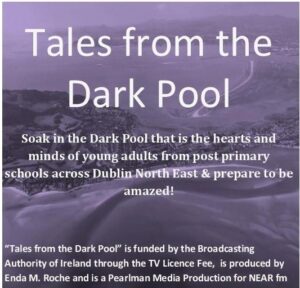 Tales from the Dark Pool
Soak in the dark pool that is the hearts and minds of Post Primary school children from North East Dublin.
Through their Stories and Poems you will encounter the full
gamut of emotions, a cacophony of voices and a surprising amount of talent and all in 1 little half hour!
The "Tales from the Dark Pool" educational series starts on Tuesday, April 4th, @ 9.30am & runs for 8 weeks until May 23rd.
Prepare to Be Amazed!
Tales from the Dark Pool is produced by Enda M. Roche. A Pearman Media Production for Near FM. 
Made with the support of the Broadcasting Authority of Ireland with the television licence fee.