The Hugh Lane Concert series – John F. Larchet remembered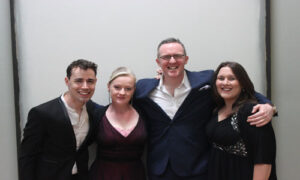 Broadcasting Tuesday July 4th @ 3pm on Near FM.
The Hugh Lane Concert series continues with a performance entitled John F. Larchet remembered.
This special programme celebrates the life of Irish composer John F. Larchet, fifty years after his death. The concert took place at Dublin's Hugh Lane Gallery on 11th June and Near FM recorded the performance as well as interviews with the musicians Raphaela Mangan (mezzo-soprano), Gavan Ring (baritone), Niall Kinsella (piano) and Lynda O'Connor. As well as interviews with two of Larchet's daughters, Sheila Larchet-Cuthbert and Maire Larchet and interviews with audience members.
This programme is  presented by Near FM in association with Dublin City Gallery and Irish Songmakers as part of the popular Hugh Lane Gallery's 'Sundays @ Noon' series.
Niall Kinsella, pianist & artistic director of Irish Songmakers, said:
"John F. Larchet influenced a generation of Irish composers through his teaching and is largely responsible for the course 20th-Century Irish Music has taken. It's such a privilege to be able to bring together such talented performers in the sublime setting of the Hugh Lane Gallery to celebrate his memory through the first performance of all of his songs."
Listen online to the programme on Tuesday July 4th at 3pm at www.nearfm.ie/livestream
About the series
The Hugh Lane Concert series showcases contemporary, traditional, classical and jazz music concerts recorded at Dublin City Gallery The Hugh Lane, as part of the Sundays @ Noon concerts. This radio series captures the best in Irish and international based composers and musicians performing in front of a live audience.
As well as the performances, Near FM have recorded in-depth interviews with the musicians, and reactions from members of the public.
Made with the support of the Broadcasting Authority of Ireland with the television licence fee.