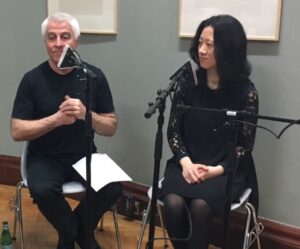 The Hugh Lane Concert series continues with a performance from Barry Guy and Izumi Kimura. In this programme we hear a performance of mainly Barry's original compositions and interviews with Barry, Izumi and Maya Homburger.
Upcoming programmes include the Quiet Club with crOw on Tuesday April 18th at 3pm.
About the series
The Hugh Lane Concert series showcases contemporary, traditional, classical and jazz music concerts recorded at Dublin City Gallery The Hugh Lane, as part of the Sundays @ Noon concerts. This radio series captures the best in Irish and international based composers and musicians performing in front of a live audience.
As well as the performances, Near FM have recorded in-depth interviews with the musicians, and reactions from members of the public.
Made with the support of the Broadcasting Authority of Ireland with the television licence fee.