The final part of our Schools Rising series featuring St Aidan's boys secondary school in Whitehall will broadcast on Thursday March 30th @ 9.30am. The book featured is Blood Upon the Rose by Gerry Hunt. Tune in to Near FM as we hear Gerry and  the  students discuss the book and the 1916 Rising.
About the series
Schools Rising  is a four part literary and education series exploring children's fiction used at schools centred on the 1916 Rising. Tune in to Near FM as we hear the authors of Molly's Diary, Guns of Easter and Friend or Foe engage with the primary school students of St John of Gods in Kilmore, Scoil Neasain in Harmonstown and Ard Scoil La salle in Raheny  as they discuss the history of the 1916 Rising. Thats Schools Rising this December 14th, 15th and 16th @ 9.30am only on Near FM.
Dec 14th – Mollys Diary , author Patricia Murphy meets St. John of Gods Primary School, Kilmore Road.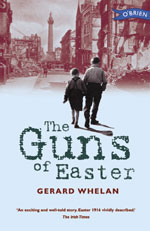 Dec 15th –  Guns of Easter, author Gerard Whelan meets the pupils of Scoil Neasain, Harmonstown, Dublin 5
Dec 16th – Friend or Foe, author Brian Gallagher with the pupils of Ardscoil La Salle, Secondary School, Raheny, Dublin 5.
Series is produced by Debbie Hutchinson, sound supervision by Gay Graham. Made with the support of the Broadcasting Authority of Ireland with the television licence fee