Yes, it's that time of year again! The DCC will be hosting their annual Rose Festival in St. Anne's Park, Raheny this weekend (Sat 15th & Sunday 16th July), and NearFM will be there broadcasting LIVE from the event this Saturday, 15th July from 12.30pm to 3.30pm.
NearTV will also be there to capture the event for a special TV broadcast to be shown on DCTV.
The Festival runs from 10am to 6pm both days and has something for everyone, both young and old. There's live music, arts & crafts, talks from local history and biodiversity groups, local farmers markets with fresh produce and loads of food stalls to keep the hunger at bay.
There's also plenty of activities for the children, including archaeology digs, climbing walls, kite making, dinosaurs, bouncy castles, dancing, face painting and even a planetarium; there's also some great bands with a picnic area in front of the stage; some Viking re-enactments, tango dancing and belly dancing in the courtyard at the Red Stables and of course, those beautiful Roses!
So if you are in the area then do drop down and say 'Hello', but if you can't make it there, then let us take you there…..
Tune in to Near 90.3fm or nearfm.ie/livestream and listen to our taste of the Rose Festival where you can soak up some of the atmosphere from the event.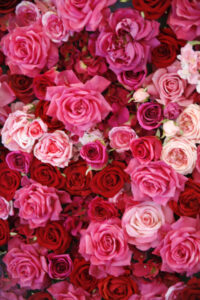 That's Saturday, 15th July from 12.30 to 3.30pm here on NearFM, LIVE from St. Anne's Park.