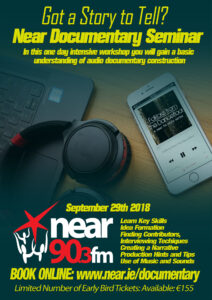 Got a great story to tell? Join us for the Near Documentary Seminar on Saturday September 29th 2018.
*last few places remaining*
In this one day seminar you will gain a basic understanding of audio documentary construction. You will learn key skills and get advice on: idea formation, finding the right contributors to tell your story, interviewing techniques, creating a narrative, production/post-production hints and tips, and use of music. The seminar will be broken down into a series of easy to follow modules/sessions with experienced Near FM producers and guest speakers. There will be an opportunity to pitch your own ideas. The cost is €155 which includes lunch and refreshments. Sign up today by clicking the link below.
https://www.eventbrite.com/e/near-documentary-seminar-tickets-46754525043
*Special guest speaker, Ronan Kelly RTE Doc on One