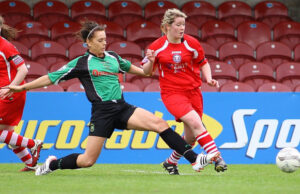 McCabe grabs WNL Cup for Raheny
By Dave Hooper
Raheny United 3
Peamount United 2
Katie McCabe slid home a final minute extra time winner to claim the FAI Continental Tyres women's national league cup for Raheny United in Tolka Park.
McCabe's 33rd goal of the season sealed a dramatic victory for the Raheny who trailed Peamount United when five additional minutes had elapsed.
McCabe gave Raheny the lead from the penalty spot after 10 minutes, a dubious decision by referee Paul Brady, McCabe going down in the box under what appeared to be a clean challenge by Anna McCormack.
Peamount were back on level terms within five minutes, tricky winger Eleanor Ryan Doyle opening up the Raheny defence, allowing Claire Kinsella to fire the ball past Irish international keeper Niamh Reid Burke.
It turned into a game of two halves as Slyvia Gee, Hayley Nolan and Linda Douglas were all on top of the game in the Peamount midfield though failed to test Reid-Burke in the Raheny goal.
Raheny came hard out of the blocks in the second period with Claire Shine unable to find the net on two occasions, sending her second attempt high over the Peamount bar as Raheny took control in the Dublin rain.
10 minutes before the end Peamount looked to have won it, Eleanor Ryan Doyle's powering run opening up Raheny and releasing second half substitute Sinead Taylor to calmly round Reid-Burke and slot home the lead.
All appeared lost for Raheny, Shauna Newman launching a free kick straight at Pea's keeper Brooke Dunne, five minutes into stoppage time, Dunne couldn't hold it, Jamie Finn pounced to send the game to extra time.
The game was destined for penalties until McCabe raced onto a loose ball and held of McCormack, to trickle the ball past Dunne, in behind the Peamount post and seal Raheny United's first Women's national league cup.
Raheny United: Reid Burke, Keenan, Walsh, Slattery, Dwyer (Rowe 68"), Killeen, Shine (Brierley 107"), Newman, McCabe, Creagh (Lynch 84"), Finn
Peamount United: B.Dunne, Gargan, Traynor (Byrne 80"), McCormack, Doyle, Nolan, Gee, Kinsella , Douglas (M.Dunne 105"), Ryan-Doyle, Cullen (Taylor 56")