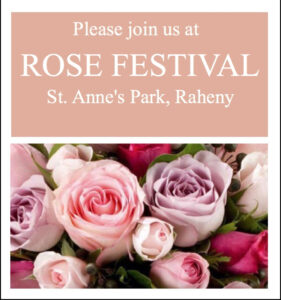 It's that time of year again! Yes, the Rose Festival will be taking place on Saturday 16th & Sunday 17th, July in St. Anne's Park, Raheny and NearFM will be there broadcasting LIVE from the event on the Saturday (16th July) from 12.30 to 3.30pm.
NearTV will also be there to capture the event for a special TV broadcast to be shown on DCTV later that evening.
The Rose Festival is a great community event, which celebrates the fantastic amenity that is St. Anne's Park and it is so much more than just Roses!
It runs from 10am – 6pm each day and has become one of the most popular family events in the Clontarf calendar with something for everyone, both young and old. There's live music, arts & crafts, talks from local history and biodiversity groups, local farmers will be there with their produce and other local community groups, and of course there will be a large variety of food stalls to keep the hunger at bay. There's also plenty of activities for children of all ages, including archaeology, dancing and face painting to name a few; plenty of plant stalls with expert advice and, of course, those beautiful Roses!
Noel McEvoy, Executive Parks Superintendent, has described The Rose Festival as 'a Garden Fete on Steroids',  which sounds like a lot of fun and, we would say, really sums up the weekend : )
So do try to get down to Raheny that weekend for a great day out, but if you can't make it there, then let us take you there!
Tune in to NearFM 90.3 and soak up some of the atmosphere, as we will be coming to you LIVE from the event on Saturday, 16th July from 12.30 to 3.30pm, to give you a taste of what's going on down at this year's Rose Festival.
For more information check out our FB page @nearfm over the coming weeks for updates on the final line up for the weekend OR go to http://www.clontarf.ie/events/st-annes-rose-festival