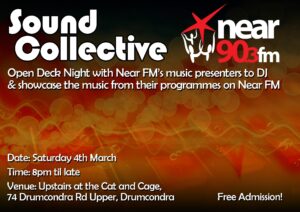 The NEAR FM Sound Collective is proud to present an Open Deck Showcase night, where NEAR FM presenters will showcase their radio shows by playing a short DJ set….LIVE!!
We will be taking over the upstairs lounge in the Cat and Cage, Drumcondra, on Saturday the 4th of March from 8pm for what promises to be a great night out for all the NEAR FM presenters, staff and listeners (So That means YOU!), and of course, family and friends too!
No (absolutely NO) Experience is Necessary!  Don't worry we won't leave you hanging! We will be there to give you a complete run through the equipment on the night before you play. All you have to do is select some sweet sweet tunes!
If you are interested in a slot, just send us a message on the NEAR FM Sound Collective Facebook page https://www.facebook.com/The-NEAR-FM-Sound-Collective-1889545377828712/ and we'll do the rest!
ALL are Welcome, and the More the Merrier : )
So, if you just want to have some fun and listen to some cracking tunes, then drop down to the Cat and Cage pub on the Drumcondra Road, anytime from 8pm on Saturday the 4th March.
We look forward to seeing you there!!