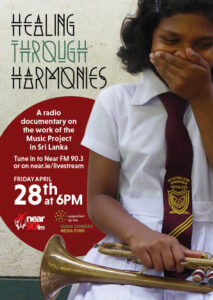 Originally Broadcast on Friday April 28th 2017 at 6pm. Podcast now available here
Near FM present Healing through Harmonies, an exploration into The Music Project, a cross community initiative which teaches classical music to Tamil and Sinhalese school children and is helping to build bridges between communities once divided by war in Sri Lanka.
The story of The Music Project leads the producers to Colombo, Mullavi and Kurunegala in Sri Lanka, and to Belfast in Northern Ireland where striking parallels are discovered.
The documentary is produced by Paul Loughran and Joseph O'Connor. Edited by Paul Loughran. Narration by Sabrina Ryan.
Supported by the Simon Cumbers Media Fund.