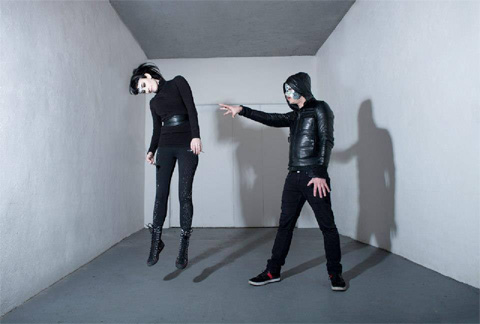 This Thursday evening, the 19th June, from 18.00 – 20.00 we will be broadcasting a two hour BackTracking feature delving into the "Alien Pop" duo of Nanu Nanu and the work currently begin explored at Unit 1 Studios in Rathgar.
"Following the last three years of over 180 gigs in Ireland, the UK, Europe and the U.S.A, Nanu Nanu released Unit 1 as there debut album last year. Since then, the "Alien Pop" duo of Laura Sheeran as "Glitterface" and Marc Aubele as "Mirrorman" have further developed their sound into an enigmatic sound scape of intrigue and imagination.
known wherever they have played live for a show that surpass there limited number and engulf all venues in their wake, more is promised by Nanu Nanu before the end of the year. A new album is nearing completion and the aforementioned live presence of the band is planned to be even more developed.
As a companion piece the first hour of this two hour BackTracking feature will be a second hour focusing on Nanu Nanu's Unit 1 Studios in Rathgar. A one time commercial rehearsal and recording studio, the space has developed into a playground of artistic endeavour and no holds barred possibilities.
Following an introduction from Nanu Nanu into the history of the Studios we have selected sessions and interviews with among others, We Cut Corners, Join me in the pines, Sleep Thieves, and more.  I hope you enjoy and as always there will be more of these Features to come" – Andy Flannery