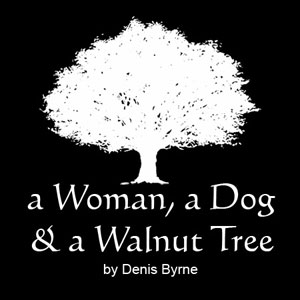 Near Drama Company present, Denis Byrne's radio play,
A Woman, A Dog & A Walnut Tree LIVE on air !!!!
The play is set in the cooking area of a Refuge Centre for married women who have suffered at the hands of violent spouses. It is the present and past stories of three women from different backgrounds.
Marge, the oldest, has little or no education, and has sought asylum in the Centre together with her three children, who are referred to during the play, as she ferries food to them offstage. She is a feisty individual with a typical Dublin accent. Thelma is a doctor's wife, well educated, and eventually having been driven to violence herself after years of enduring her husband's jealous rages which inevitably led to physical violence on many occasions. But was what she carried out spontaneous, or had she deliberately provoked her spouse on the night she did the deed?
Amanda has sought refuge in the Centre after accidently discovering her controlling and violent husband had been sexually abusing her eight-year-old daughter since she was six while she was out of the house. He has never penetrated the child, but made her do things which no child should ever have to endure. Without proof, Amanda cannot have him charged. He discovers where she is and threatens in a letter that he is taking the matter to court to regain custody of his daughter. Amanda, against all advice, decides to go and plead with him not to go through with it. But he merely laughs and sneers at her, telling her that because of her past mental history, he'll have no problem winning custody. Then he beats her up and throws her out.
What follows when Amanda returns to the Centre leads to a tragic conclusion after she's come to her final decision to protect her daughter.
Near Drama Company will perform Byrne's play LIVE on air
October 15th 2014 from 7.30-9.00pm, and will be followed up by a
panel discussion on the topic of domestic abuse, with a number of experts.
Sound supervision:  Gavin Byrne
Broadcasting assistant: Deborah Gaffney
Announcer: Carol Dempsey
Narrator: Niamh Murphy
Producer…. Declan Cahill
Facilitator …. Debbie McMahon
Marge …..  Francis Keogh
Joe……….. Joe Murphy
Thelma….. Ann Loughney
Michael….. Peter Prior
Amanda…. Mary McNamara
Paul……….. Michael Sharp
You can now listen to the a recording of the LIVE broadcast and panel discussion: