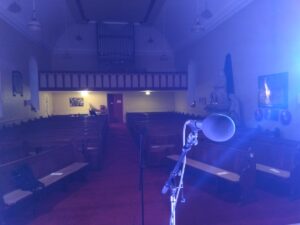 On Friday October 5th 2018, Near FM recorded a night of intimate music and spoken word performance in the wonderfully atmospheric setting of St. John the Baptist church in Drumcondra.
New Sounds in an Old Place is a night of new and contemporary sounds, hosted up to 6 times a year and curated by the arts collective GlasDrum. The acts on the night were the spellbinding close harmonic folk styling's of Ye Vagabonds, multi-instrumentalist, composer, arranger, and songwriter Dowry and Natalya O'Flaherty an emerging voice on the Irish spoken word scene.
In this special radio programme to be broadcast on Friday Nov 16th at 5.30pm, we will hear performances from all the acts as well as interviews with the musicians, the organisers and members of the audience. Near FM is 90.3 on the dial or listen online https://nearfm.ie/livestream/ A special listen again programme will be made available after the broadcast, keep an eye on Near FM's twitter feed or Facebook for more information.
With special thanks to all the acts and to Martin Byrne, Patricia Flynn and all in GlasDrum and Garth Bunting and all in St. John the Baptist church in Drumcondra.
Near FM production team – Producer/editor – Paul Loughran, Technical production – Gay Graham, Interviews/editing – Glen Caulwell, Mixing – Ed Grannell, Voxpops – Dorothee Meyer Holtkamp, Technical assistance – Gary Kirwan.
This is the first of two programmes Near FM will produce in the GlasDrum Presents series, the next will be a recording from the Winter Chamber Music Festival in Drumcondra on the weekend of Nov 30th to Dec 2nd 2018.
GlasDrum Presents … New Sounds in an Old Place is supported by the Broadcasting authority of Ireland Sound and Vision scheme with the television licence fee.