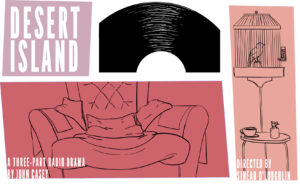 Desert Island, a new three-part drama by John Casey, directed by Sinéad O'Loughlin. Broadcasting Nov 19th, 20th & 21st at 6pm on Near FM.
Trapped by her size, Trish Collins has to rely on her ne'er do well husband as her link to the outside world. With one good son, the other a violent thug, she never sees her grandson and her caustic brother-in-law is about to re-enter her life. Her happy memories are fading as she sits in the same room listening to old records waiting for something to change. Perhaps it's time she made some changes herself.
Cast
Trish                           Diana O'Connor
Noel                            Mick Nolan
John                           Pat Nolan
Shane                         Adam Traynor
Peter                           Edwin Mullane
Annie                          Debbie Bligh
Ruth                            Susanne Carey
Steph                          Tara Egan Langley
Trevor/Francis           Kevin Shorthall
Artwork by Chris Timms   @chriscotimms
Desert Island is supported by the Broadcasting authority of Ireland Sound and Vision scheme with the television licence fee.